Operating in Moncton
We'd been planning a trip to Moncton to operate with the Codiac group there for a few weeks now.  Planning a trip during the winter is a risky business.  You never know when the weather will good for traveling.   Fortunately the weather cooperated and Derwin, Tom, Ewen, and I were able to make it to Moncton yesterday, as planned.
We left my place a little after 7:00 am.  I must say this in my own defense and before anyone else mentions it – I was distracted with conversation as we came to then end of my street and, by force of habit, I turned right as I do 95% of the time.  There were a few (3 to be exact) comments about "Where are you going!" at about the same time that I realized I should have turned left.  A quick turn-around got us on the right path.  Fortunately the rest of the day went quite a bit more smoothly.
Our first stop was at 9:00 at John S's.  We had to have a pit stop at the Tim's down the road from John's so we were about 5 minutes late.  John, Milne, and Jim were waiting.  After a brief verbal overview of the layout for the benefit of the new guy we got underway.  I had worked in Riverview on previous visits and liked how it operated so I chose it as my job.  The work pace there is just enough to keep you busy, but not swamped.  Plus you're not in the way of other operators so it is easier to get work done.  It wasn't until near the end of the session that I managed to get a few pictures.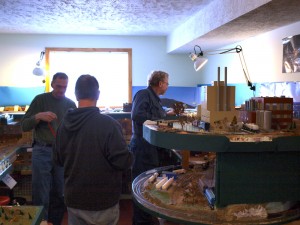 Tom has just finished his task and hands the throttle off to John.  Milne is just about finished working in Coverdale.  As you can see the layout is multilevel (3 if you count the lower staging fiddle yard).
It is always fun working with the Codiac Operating Group.  They like to joke around and have a good time while they "play with model trains".  Jim, of course, was very quick to point out that he was not the latest recipient of the Golden Demerit Award and pointed out John's achievement (which was prominently posted on his bulletin board).  John seemed proud, and Jim was relieved not to have received the award for once.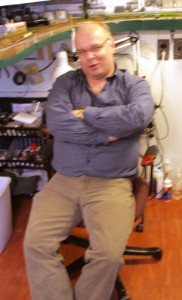 I apologize for the quality of this image.  I had to sneak up and take it quickly so he wouldn't get up to avoid the embarrassment.
This was a common pose for Derwin on a previous trip to Moncton Please note photos 4 and 10 in that post.  Photo 3 of that post is a variation on the theme – I think it was the reason he took the job.
I was worried it would be a trend again this time.  My intention was to catch him in this position at each of the three layouts we visited, but oddly enough I was unable to.  I think he actually worked on the other two layouts!
The first 2 photos in that post show a very happy Jim presenting the first Honorary Golden Demerit Award to Derwin.  It is quite rare that Jim does not receive the award.
We left John's for Dave W's basement empire and got there, in his words, "early, but on time" and caught him in the middle of cleaning up.  John and Milne came with us and Doug C. and Ben O. joined us shortly after we started operating.
After a brief into to the layout and his operating procedures we got underway.  No one else volunteered for the job so I took the Riverview Yard job.  The location had the same name as John's but the level of effort was nowhere near the same!  It's really a task for two people.  I've worked there before and the experience did help but unfortunately not enough.  I struggled through, but I'm afraid I left things in a bit of a mess.  Sorry Dave!
Derwin, as usual asked which job was the easiest.  I don't think he got his wish.  I could not catch him sitting down.  Ewen worked with Jim in West Riverview and Tom helped John in Baltimore.  Doug and Milne ran mainline trains to keep traffic flowing.  It was very enjoyable and the time flew by.  It was lunch time before we knew it.
After lunch we went to Chuck's (Don's HO) to shop, spend money, and chat.  We were able to leave on time to stay on schedule and arrived at Doug C's right on time.  It was the first time we operated on Doug's layout.  It was a real treat!  Thanks Doug!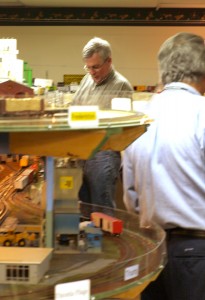 Neither John nor Milne could make it to Doug's so there was just the four of us plus Doug, Dave, and Jim.  Murray joined us not long after we started operating.
I picked another yard job – Moncton, but Dave offered to help out. I'm not sure of the location names where Tom, Ewen, and Derwin worked, but they were as busy as I was.  Again, Derwin did not have time to sit down during the op session.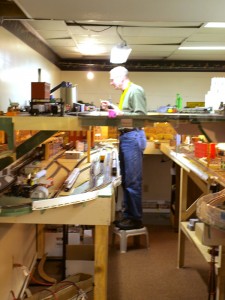 Doug's layout is a fairly large multi-level layout.  There is quite a bit of separation between the levels making the upper level high.  Ewen worked a yard on the upper level which was quite funny since it was almost above his eye level.  Doug has lots of step stools and platforms around so Ewen found the tallest one to stand on.
Tom even felt more comfortable using a stool.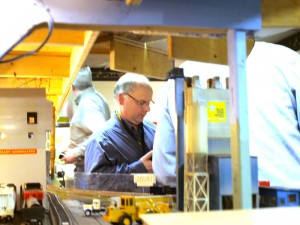 Derwin worked a job on the lower level.  He was quiet and kept out of trouble so he must have been working hard.  (highly unusual!)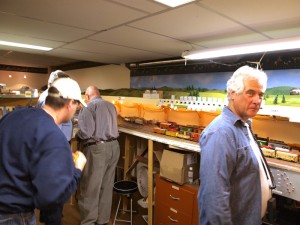 Before I show the next photo I must show this one to demonstrate that Jim actually did work during the session.  I'm not sure what he's doing but I'm sure it's important.
Murray is keeping an eye on his train as it leaves the Moncton Yard.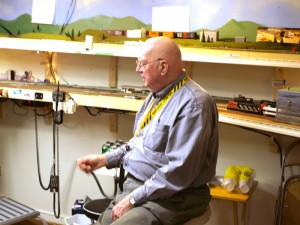 I couldn't catch Derwin sitting, but I caught Jim having fun twirling the throttle cord.  HA!
It was a long day but well worth getting up early on a Saturday and driving to Moncton.  The Codiac guys are always great hosts and really do like to have fun.
Thanks guys!
Scott