Quick Update
I've been finding some time to work on the layout, but not enough time to update this blog, obviously.  I thought I owed it to you to post something, finally.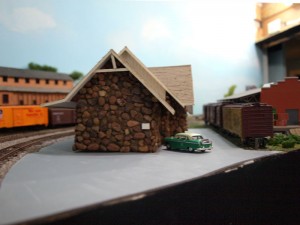 The crews finally came back to Derwin's Drop to take the station off the blocking and put it on a real foundation.  What a bunch of yahoo's they were!  The crane operator was not watching his boom while he was moving it and gave the roof trim at the peak a bit of a knock!  I guess I should be thankful that he didn't put a big hole in the roof.
There is still some landscaping to do around the station as well as some new signage, but that will get done soon, I hope.  I also need to get a passenger platform built.
I've also been working on the station in Chappellton.  The lower level is getting close to completion and the building above ground is looking a lot better.  Brian posted a photo of the lower level on his blog.
That's it for now!  I'll have more updates soon, I hope.
Scott