The "Incident"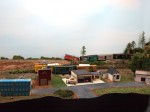 Now, getting to what I alluded to previously.  The guys in Moncton will be pleased to hear that Derwin earned some well-deserved demerits during Sunday's operating session.  It seems he didn't inspect his train before he left Tidewater heading back to Wholinthall with the CN Interchange.  A coupler let go on The Ridge and the rear section of his train rolled uncontrolled down grade.  The caboose and the next car derailed at the crossover causing little damage to the contents of the box car, but almost wrote off the caboose.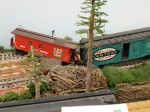 The cupola is laying on the ground, the handrail between the cars is at an odd angle, and the ladder is missing.  A search crew found it the next morning just after sunrise.  They had to use a helicopter to do an aerial survey of the area.  They couldn't believe how far the ladder flew from the scene!
It's also amazing that no one was injured!  Conductor Ima Lukyduk was heating up some soup and pouring coffee at the time.  "I was trown onta da cot dere an a bunch a pillows landed on top o me.  They kept me from gittin covered wit the soup and coffee I was heetin' up!  I'm glad I sleep a lot an have a good mattress (from U & M Mattresses by the way) and lots a pillows on hand!"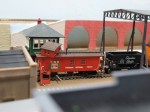 The caboose is now at Fixum Car Repair in Chappellton where it will hopefully be repaired before the next operating session. They already used the crane to put the cupola back on the roof.  I really hope they straighten it up!
How many demerits do you think that's worth!?
Scott